Entretien avec Stan The Man Lee (oldies)
Par Beyonder le mardi 23 septembre 2008, 22:43 - Anciens strips - Lien permanent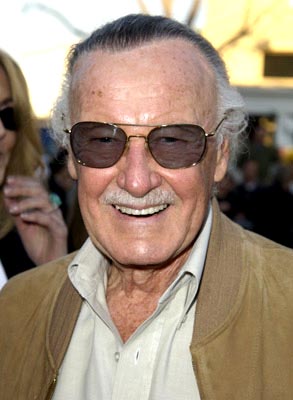 Si Tolkien a créé l'univers de la Terre du Milieu et Zola les Rougon-Macart, Stan Lee a créé le Marvelverse. En effet tous les personnages qui font les beaux jours du cinéma américain sont nés de l'imagination fertile de cet homme : les X-Men, Spider-Man, Daredevil, Hulk… New York), Stanley Martin Lieber est le cousin de la femme de Martin Goodman, le doyen de Marvel. A la fin des années 40, il devient éditeur adjoint. Un an plus tard, il débute comme auteur sur une histoire de deux pages de Captain America.
Il rêve de devenir un jour un grand auteur comme ses modèles Stevenson, Conan Doyle et Burroughs. C'est pourquoi il ne veut pas attacher son vrai nom à l'écriture de ce qui est couramment considéré comme des "idioties".
Il choisi le pseudonyme de Stan Lee parce que, dit-il, ce nom a une consonnance " stupide ".
C'est en 1961 que le succès lui tend les bras avec The Fantastic Four puis Spider-Man (à lui et à ses amis Jack Kirby et Steve Ditko). C'est à cette période que naît la grande majorité des personnages classiques de Marvel (cette période est d'ailleurs appelée l'âge d'or des comics).
Après avoir longtemps été le Big chef de Marvel (poste qui au début devait être temporaire, le temps de trouver un remplaçant) il n'a jamais vraiment quitté la maison des idées. En effet aujourd'hui encore chaque histoire publiée par cette maison d'édition débute par le célèbre " Stan Lee présente ".
Le père des super-héros, a accepté de nous accorder une interview. Sur quel titre devions nous interroger The Man ?
Spider-Man ? Hulk ? The Advendgers ?
Notre choix s'est fait sur le comics qui explose tous les records de vente de BD, mais aussi de places de cinéma : les Etranges X-Men !
Vance: Lorsque vous avez créé les X-Men, pensiez-vous que cette bande dessinée deviendrait si célèbre ?
Stan Lee: Non, je ne pensais pas que cela deviendrait plus qu'un banal titre de bande dessinée.
Vance: Vous-êtes vous inspiré de Martin Luther King pour le personnage du professeur Xavier ?
Stan Lee: Je ne me souviens pas ce qui m'a inspiré lorsque j'ai créé le professeur X. Mais je ne pourrais pas dire que ce n'était pas Martin Luther King.
Vance: Quel est votre personnage préféré ?
Stan Lee: Wolverine.
Vance: Pourquoi ?
Stan Lee: Parce Que Wolverine est le personnage le plus complexe, le plus torturé et le plus imprévisible.
Vance: Aimez-vous le style des auteurs actuels des X-Men ?
Stan Lee: A dire vrai, je n'ai pas le temps de lire les X-Men, ni aucune autre BD. Pour cette raison, je ne peux pas vous répondre…
Vance: Reprendrez-vous à nouveau l'écriture des X-MEN ?
Stan Lee: Il est peu probable que j'écrive à nouveau sur les X-Men ou sur un autre titre de Marvel. A moins que ce ne soit pour un numéro spécial.
Vance: Avez-vous un message pour vos fans français ?
Stan Lee: Mon message à mes fans français est que j'apprécie leur loyauté à Marvel, ses super héros et moi.
J'espère que notre relation sera toujours aussi chaleureuse et amicale qu'elle l'a été dans le passé. Excelsior !
Retrouvez la réédition de cet article (initialement publié dans Comicbox) ci-dessous.